News and Press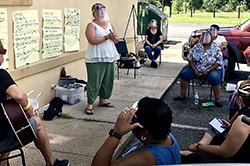 Voices of Valor featured in the Philadelphia Inquirer
The song began coming to life on Zoom, and later, in the parking lot of the Red Lion Diner in Southampton.
Masked and seated apart at safe distances, eight singers — all of them veterans, seniors, and women of color — linked lyrics into lines and threaded strands of melody into verses.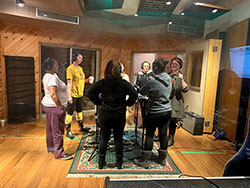 Jewish Women's Foundation
Voices of Valor, an award-winning, innovative, song-writing initiative for veterans, was founded eight years ago by Music For All Seasons co-directors Brian Dallow and Rena Fruchter and is based in Scotch Plains. It is the first of three programs supported this year by the Jewish Women's Foundation of New Jersey (JWFNJ), a donor-advised fund of the Jewish Community Foundation of Greater MetroWest NJ.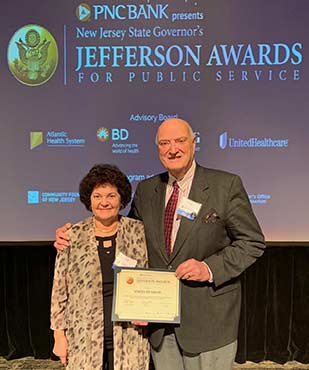 Music For All Seasons' Voices of Valor Program Receives New Jersey State Governor's Jefferson Award
In a ceremony in Trenton, New Jersey on May 19, 2019, MFAS' Voices of Valor program was recognized for its extraordinary service to the community with the 2019 New Jersey State Governor's Jefferson Award for Public Service. In its 2018/19 New Jersey program, Voices of Valor has been offering programs to the veterans at Lyons Hospital, Lyons, NJ; Veteran's Haven North, Glen Gardner, NJ; Veteran's Haven South in Hammonton, NJ; and several other locations for the past eight years. The program pairs military veterans with professional musicians and psychology mentors in a nine-week session that helps veterans reintegrate into civilian life through group songwriting and recording. During this period the veterans share their experiences and work with the musicians to create the songs enabling the process of healing.  In week eight, the songs are recorded in a studio, followed by a CD release party in week nine.
(Left) MFAS Artistic Director Rena Fruchter and Executive Director Brian Dallow at the ceremony in Trenton, NJ.
Music For All Seasons Receives Grant from National Endowment for the Arts
Music For All Seasons (MFAS) is proud to announce they have received funding from the National Endowment for the Arts (NEA) for fiscal year 2021. MFAS has been an NEA recipient for the past seventeen years. 
MFAS has received an NEA Arts Works grant of $15,000 to provide live, interactive musical programs in shelters serving children who are victims of domestic violence in New Jersey, New York, Connecticut, Pennsylvania and California. The NEA is an independent agency of the United States federal government that offers support and funding for projects exhibiting artistic excellence. 
In addition, MFAS was one of a small number of recipients to be awarded a special grant of $50,000 to assist with COVID-19 programming and costs.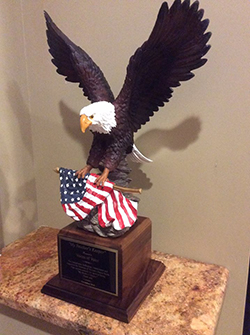 Voices of Valor Receives Award from Veteran's Haven
Scotch Plains, NJ (December 2016) — Voices of Valor®, an award-winning program to help veterans heal through musical expression was honored with a special, first-ever "My Brother's Keeper Award" by Veteran's Haven North, a transitional housing program for homeless veterans, located in Glen Gardner, NJ.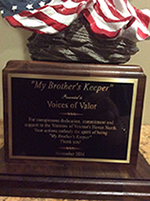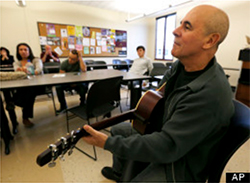 Voices Of Valor' Helps Veterans Heal Through Music
By SAMANTHA HENRY 12/28/12 03:00 AM ET EST
MONTCLAIR, N.J. — During stressful times as a combat medic in Afghanistan, Mason Sullivan found solace in Vivaldi. New Jersey native Nairobi Cruz was comforted by country music, a genre she had never heard before joining the Army. For Jose Mercedes, it was an eclectic iPod mix that helped him cope with losing an arm during a tour of duty in Iraq.
Spyro Gyra guitarist finds working with Voices of Valor to be a life-changing experience
Written by Julio Fernandez, Voices of Valor facilitator For the NJ Courier
I have been the guitarist with the Grammy-nominated jazz group Spyro Gyra for three decades, recording more than 20 albums and touring all over the world, playing for audiences of thousands. So what has drawn me to the Voices of Valor project, where I get to work in an intimate setting with small groups of veterans, writing songs?
A Healing Art
By: BYRON JANIS Updated May 7, 2014 6:55 p.m.ET
Can music heal? There's been a great deal of study by neuroscientists on the different ways music acts upon the brain, affecting our behavior, memory and the like. But there is also growing scientific evidence attesting to its curative powers.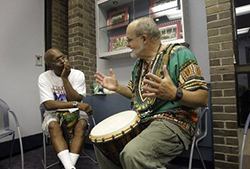 Helping veterans get back into the beat of civilian life.
By Peggy McGlone/The StarLedger Friday, October 14, 2011
John O'Boyle/The Star-Ledger Tom Hankerson of Levittown, PA listens to drum circle instructor Richard Reiter during a program
called "Voices of Valor" that helps returning vets relieve and manage stress through music and songwriting. The program takes place inside the Rutgers student center in New Brunswick.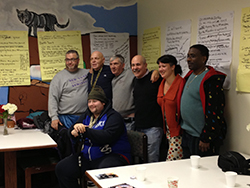 Voices of Valor helps vets transition through music
Written by Bob Makin For the NJ Courier News and Home News Tribune/Asbury Park Press
SCOTCH PLAINS — For the 27th time in less than two years, Voices of Valor is about to release a song recording that helped a group of veterans release the emotional wounds of war and other issues related to military service.
Lorin Maazel interview
On the verge of his final days at the New York Philharmonic, and with a new summer festival up his sleeve, Lorin Maazel chats with Nancy Shear at Steinway Hall.
Lorin Maazel first waved a stick in front of the New York Philharmonic in 1942, at the jaw-dropping age of twelve. His preternatural talent for leading musicians had been noticed and mentored in two of the cities where he lived as a boy, Los Angeles and Pittsburgh, and the dramatic result was his appearance at Manhattan's Lewisohn Stadium, then the Philharmonic's summer venue.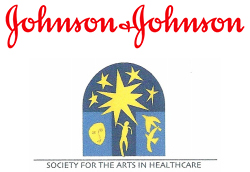 J&J & SAH Award
WASHINGTON, DC, February 12, 2008 – Today, the Johnson & Johnson/Society for the Arts in Healthcare partnership announced the 2008 award recipients of the annual grant program, designed to bridge the gap between illness and health and promote the use of the arts to enhance the healthcare experience for patients, their families and caregivers.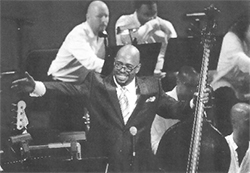 NEA funding
An outdoor jazz festival presented by Jazz House Kids in Montclair, a Wagner opera in Princeton and in-school dance residencies in East Orange are among 15 New Jersey projects that will share $284,500 from the National Endowment for the Arts.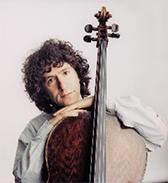 Distinguished British Cellist to Head Music For All Seasons Advisory Board
Music For All Seasons is pleased to announce that Steven Isserlis CBE, has been elected President of the Board of Advisors, a position founded and previously held by Dudley Moore.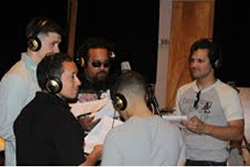 Scotch Plains Non-Profit Offers Music As Therapy
By Rachel Gillett (Open Post) Updated August 9, 2012 at 2:40 am
The New Jersey State Council on the Arts awarded more than $450,000 in grants to Union County arts organizations and projects last week.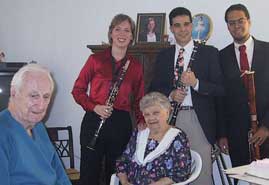 First "Respite For Caregivers" musical program given in Union County
Scotch Plains, NJ: On Thursday October 18, Music for all Seasons gave the first performance in its new Respite for Caregivers program at the home of Ethel and Harold Mayland in Union, New Jersey. The Ebbets Field Trio, composed of David Hattner, clarinet, Gill Dejean, bassoon, and Meighan Stoops, clarinet, performed for an hour, in a program bringing live music into the home of a couple who were celebrating the combined occasion of their 60th wedding anniversary and her 84th birthday.